Our Strength is
Our People
Look no further than our nationwide, 4.9 star Google Reviews average across all locations as evidence that happy customers are the direct result of happy employees doing their best work in a great work environment.
CURRENT JOB OPPORTUNITIES
Autobody Repair Technician, Red Seal
Spray Technician
Do you like to work on vehicles and not afraid to get a little dirty? LINE-X in Port Elgin is looking to hire an experienced installer of spray-in bed liners or is willing to train the right candidate. Your duties will include prepping, sanding, masking, and spraying of truck beds as well as working in our Krown Rust Control shop. Full-time opportunity between LINE-X and Krown Rust Control. 
See full job posting on…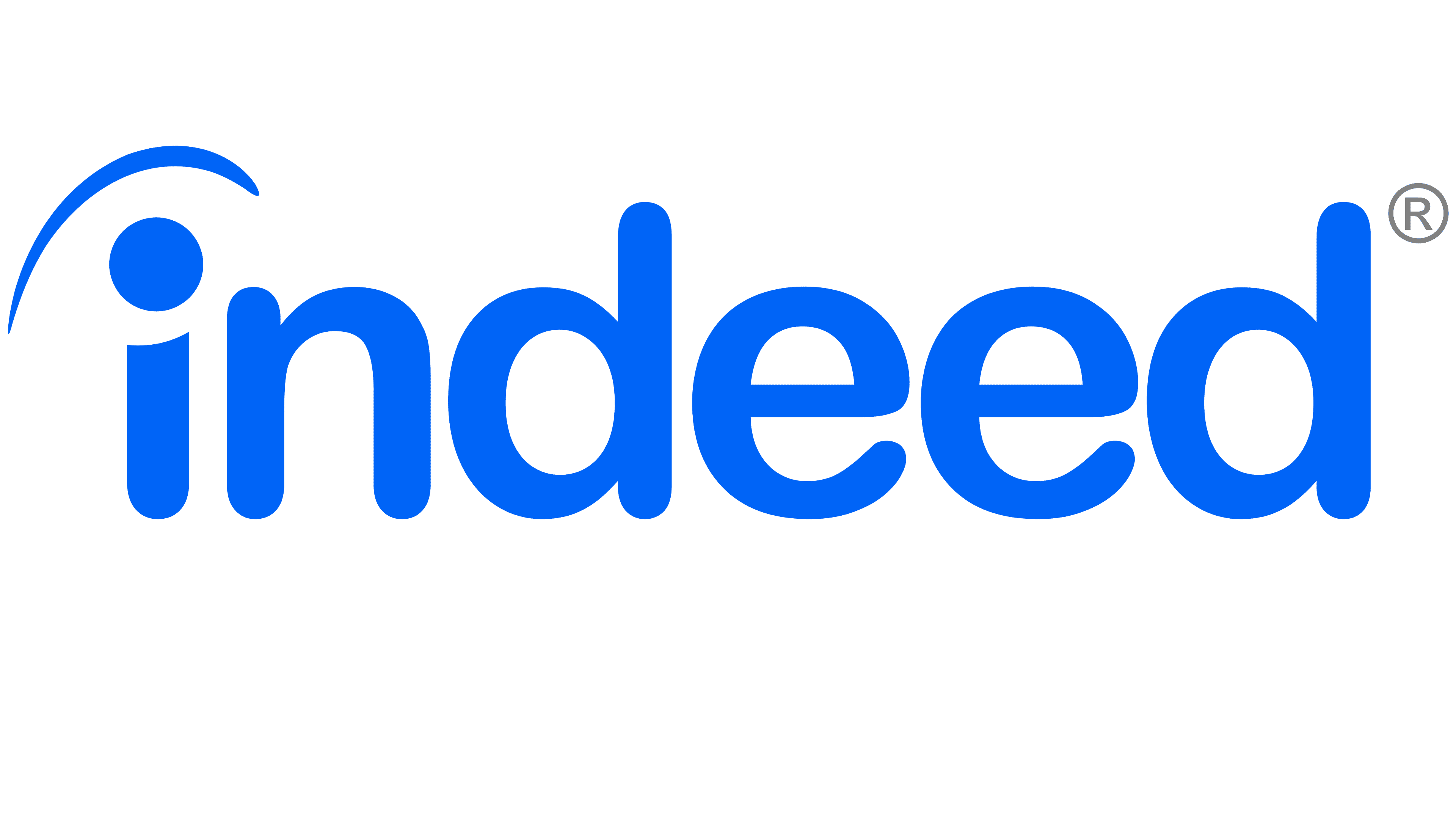 General Career Opportunities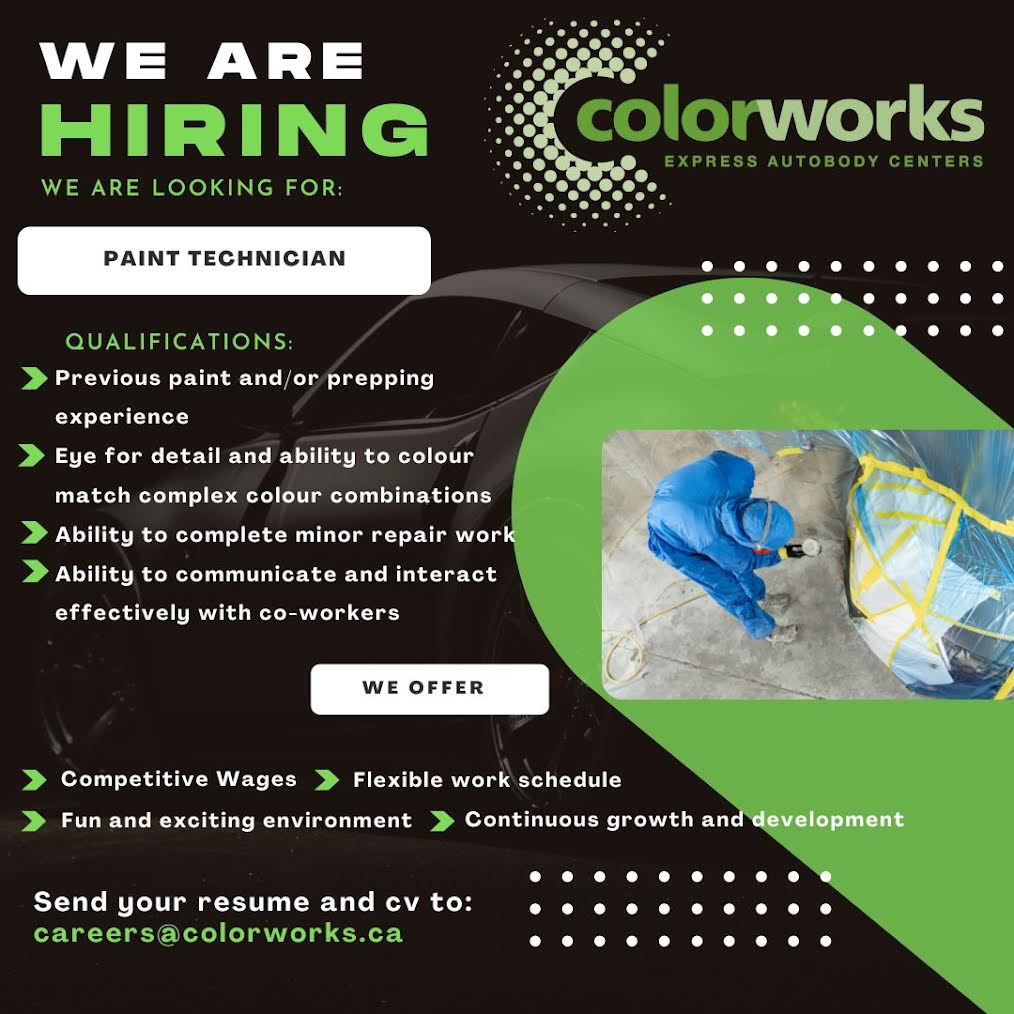 Ontario or Vancouver Painter
Colorworks Express Autobody Centers
All Ontario Locations and Locations in the Greater Vancouver Area
Colorworks Express Autobody Centers has nine locations across Ontario and five locations in the greater Vancouver area that are actively looking for experienced painters. If you are interested in working with us, please complete the online form below and we'll contact you to discuss our exciting career opportunities.
Painter Job Description:
The Refinish Technician/Painter assesses and evaluates the exterior paint condition of various vehicles and selects appropriate corrective action or method of repair to ensure a seamless paint finish.  Prepares and applies paint to repaired vehicles. Duties may include final sanding, masking, color mixing and tinting, spray booth operations, applying primers, sealers, color, and clear coats. Works with potentially hazardous materials so attention to safety and personal protection are essential. Vehicles must be correctly prepared and refinished to ensure proper adhesion, color match, and overall appearance. 
Responsibilities:
Identifying and removing layers of sub-coatings by using abrasives, solvents or chemicals.

Preparing surfaces using power and manual sanding equipment, and applying masking and sanding techniques.

Completing minor damage repair prior to masking, applying priming and top coating using spray guns.

Using an eye for detail and good colour sense to match complex colour formulations created by vehicle manufacturers.

Painting the damaged vehicle with appropriate paint colour as specified in the repair order.

Applying refinishing products in the correct sequence for proper adhesion and durability.

Using the scale to weigh the appropriate amount of colour required for the job.

Taking proper care of equipment by cleaning the spray guns after each colour use.

Keeps work area clean and tidy. A Painter is expected to practice conserving materials to minimize waste.

Notifying the Shop Manager if problems arise with the spray booth, i.e. temperature changes, lighting, etc.
Qualifications:
2+ years auto body painting experience

Automotive Painters License (410N) or registered with Ministry of Training Colleges and Universities

Paint certification with PPG or BASF an asset

Registered with the College of Trades.

Ability to communicate and interact effectively with co-workers.
The ideal candidate:
Is committed to a full-time work schedule, Monday-Friday, 8 AM – 5 PM

Has a positive attitude

Is organized and tidy in their work

Adheres to all health and safety policies and procedures

Has their own transportation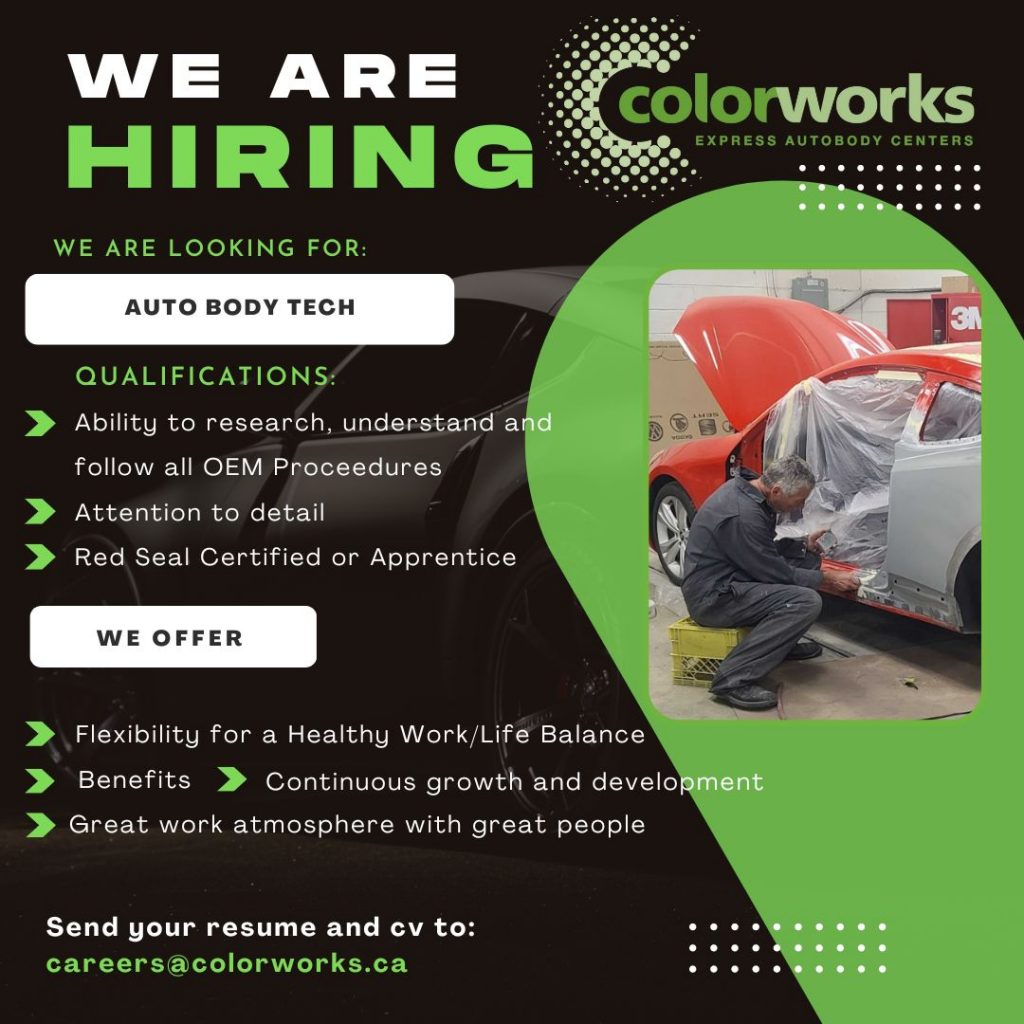 Ontario Autobody Tech
Colorworks Express Autobody Centers
Our nine locations across Ontario are seeking experienced autobody repair technicians. We offer competitive wages and benefits along with a flexible schedule. If you are interested in working with us, please complete the online form below and we'll contact you to discuss our exciting career opportunities.
Ontario Autobody Tech Description:
An auto body technician is responsible for repairing and restoring vehicles to pre-accident condition. 
Responsibilities:
Be proficient in reading and interpreting repair estimates and repair documentation

Participate and contribute to repair planning

Use structural pulling equipment to straighten bent frames and unitized bodies

Be able to set up and operate electronic measuring equipment

Remove badly damaged sections of vehicles (e.g. roof, rear body panels, etc.) and weld in new sections

Repair damage to body panels, weld according to OEM guidelines and procedures

Repair and/or replace interior and exterior components such as instrument panels, seat frame assemblies, carpets and floorboard insulation, trim panels and mouldings as required

Replace accident damage components in hybrid systems, airbags and restraint systems, mechanical and safety systems e.g: ADAS

Inspect vehicles for dimensional accuracy and test drive them to ensure proper alignment and handling.
Qualifications:
You are able to research, understand and follow all OEM repair procedures

You have the ability to work independently as well as contribute to a team

You adhere to all protocols of a safe work environment

You are physically capable of all physical attributes to perform all job requirements (which include bending, crouching, reaching and lifting approximately 50 pounds +)

Exceptional customer service skills

You have a keen eye for detail

Brach I or Branch II autobody certification

Journeyman Red Seal Licenced (Interprovincial) preferred

ICAR Gold or Platinum is an asset
The ideal candidate:
Is committed to a full-time work schedule, Monday-Friday, 8 AM – 5 PM

Has a positive attitude

Is organized and tidy in their work

Adheres to all health and safety policies and procedures

Has their own transportation
I just had my bumper replaced there and I can say with certainty that this is a place that has high quality professionals at a reasonable price! The service man I dealt with was punctual, personable, and they got the job done quickly and it looks great! Would definitely recommend them for all your bodywork needs!

Brock Sowers


Had the roof of my car repaired and they did an excellent job. The quality of service and workmanship is clear and speaks for itself. As a customer, Jessica and her team ensure you're taken care of. They also are very clear on the expected outcomes and challenges faced for any job. I found them very honest and upfront. I highly recommend and wouldn't hesitate to go back to Colorworks in Port Elgin.

Aaron Muron


Always a great experience from these guys. They have always been great efficient. They even exceed expectations. Will not take my vehicles anywhere else for body work! They kept my vehicle for the least amount of time possible by ordering parts first and notifying me when they came in so my vehicle was not sitting there waiting and had all repairs done in a week. Any issues I had they told me to bring it back and they would correct anything that was not up to my standards. All around great people to work with. Great job guys keep up the good work!

Lisa Milligan


Even during these troubled times, jessica and Ashley were very quick and professional at providing a quote, scheduling my appointment for the body work and paint for my F150. The vehicle was ready within the time frame they suggested and payment / pickup was flawless. All without ever entering their shop! Impressive paint job and they also detailed the vehicle for me unexpectedly. So far I'm very impressed....

fm lemieux